EXHIBITION POSTPONED due to closure of non-essential business in Philadelphia due to COVID-19. More details available soon.?
March 27?April 19
Artwork by Matthew Hall At 3rd Street Gallery,?
610 S. 3rd Street, Philadelphia, PA 19122
Gallery Hours:?
Fridays & Saturdays: 2-8pm
Sundays: Noon-6pm
By Appointment Contact: [email protected]
Receptions:?
4th Friday, March 27, 5-8
Artist Reception, Sunday March 29, 2-5pm
1st Friday, April 3rd, 5-8pm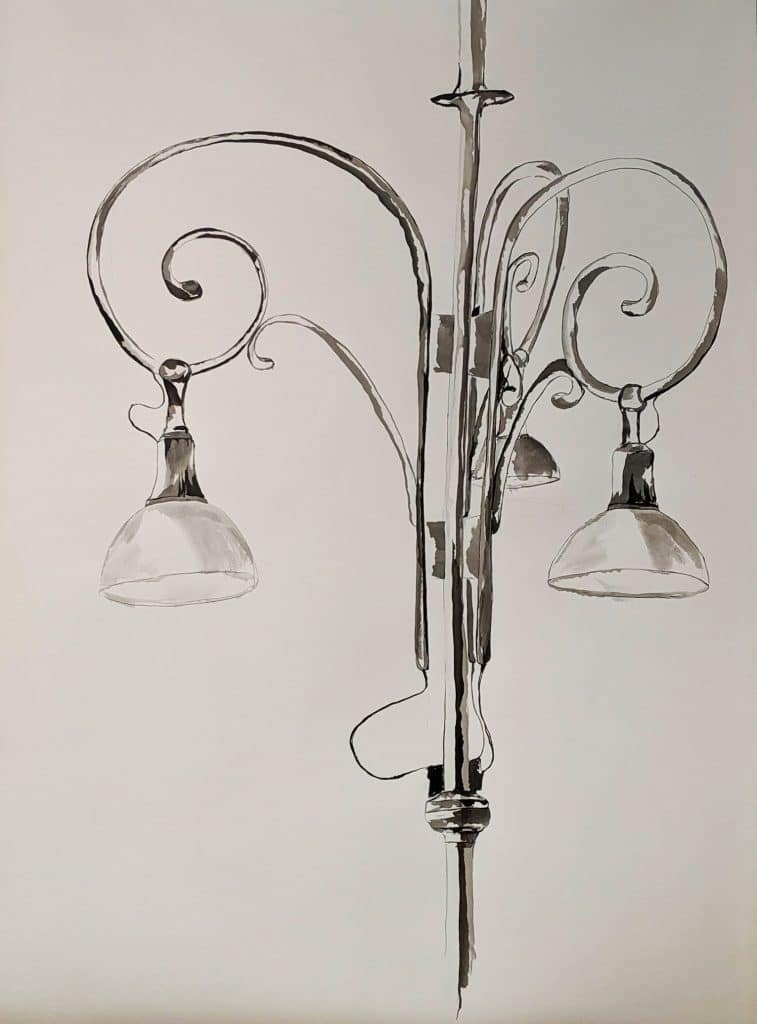 The amazing part about travel is how much time we spend looking up. There's a point where we lack familiarity with our surroundings and start experiencing more than just what is directly in front of us. Those are the moments where we let go of of the everyday, step outside of ourselves, and experience the world that surrounds us in the moment. ?In Looking Up, Matthew Hall is exploring the experience of looking up through his own eyes, as well as finding others doing the same. This exhibition of gestural, ink-works on paper is focussed on ironwork and lighting fixtures found in Italy. Additional works relating to scenes of travelers, museum-goers, and shoppers in the midst of the same experience, and scenes found in Philadelphia after returning from a trip to Italy with eyes still trained to look up.?Looking Up runs from March 27th through April 19th 2020 at 3rd Street Gallery, 610 S. 3rd Street, Philadelphia, PA, 19147. Fourth Friday and first Friday receptions are March 27th and April 3rd, and an artist reception is scheduled for Sunday March 29th 2-5 pm.
More info on 3rdStreetGallery.com and MatthewHall.info.?
About Matthew Hall:?
Matthew Hall is an artist and designer working out of a studio in the Kensington neighborhood of Philadelphia. In addition to his artwork, he is the co-director of 3rd Street gallery and maintains a design practice. He attained an MFA from Penn State in 2013, and a BFA from Alfred University in 2006.?
About 3rd Street Gallery:?
The Gallery has been in existence since 1978, opening in its first space on the corner of 3rd and Bainbridge in South Philadelphia. As one of the oldest artist-run, fine art galleries in the City it has been home to thousands of Philadelphia artists. The members are a diverse group of artists of all ages and backgrounds. They are multigenerational, have advanced degrees in the arts as well as the sciences, work in diverse media from the traditional to the digital, range from the classically trained to the self-taught and include arts educators, award-winners, and artists whose work is collected by museums as well as by corporate and private collectors.